This is a webring for all pages that have anything to do with jazz. That's the only criterion. To maintain ring integrity, however, only I (as RingMistress) can add sites to it.


Be sure to download the graphic and upload it to your own web server after you've joined. Please do not link to the graphic from here.


To download the graphic, click on it with your right mouse button and select "Save this Image As".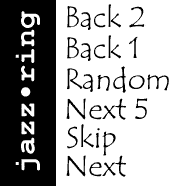 jrmenu.gif, 3k, 180x186